Natural putting greens are difficult to install and maintain. Artificial putting greens, however, are far easier in terms of maintenance and installation. Whereas the natural variety requires expertise in the specific types of lawn used and special tools to manicure and maintain, many of which are very expensive, the artificial variety needs little maintenance.
There are a variety of applications for artificial putting greens but most of the jobs we install come in two different varieties: putting greens for both children and adults and putting greens for golf pros and enthusiasts.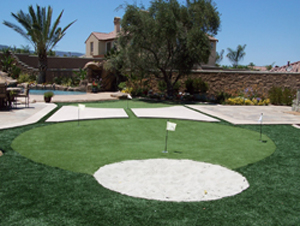 The variety for children and adults are typically less labor intensive and topographically far more simple. They may or may not include chipping areas and sand bunkers and stint meter is not as important to the non-pro. The benefit of the newest products on the market is their realism and long lasting wear.
Professional artificial putting greens look and play as good or better than the real thing. From lighted cups to designer flags and from sand bunkers to multiple cuts, professional greens are painstaking in their application and the attention to detail is extraordinary.
When deciding on a putting green application that fits your needs make sure that you interview multiple installers and get a really good feel for their quality of work. Many putting greens are installed in back yards so inspecting the work of an installer can be difficult. These installers should be able to provide you with photographs of their work so you can ascertain installation quality. Inspect the samples they provide and the quality of the backing as well.