The benefits of artificial turf are numerous, it is easy to maintain, requires no watering and looks perfect year round. Since many consumers are far more familiar with the natural variety of turf as opposed to the artificial types, it is normal for our customers to have a great deal of questions. How well does the turf hold up in high traffic areas over time? Will the color fade? How do you properly maintain turf so that it lasts as long as possible? This article is designed to provide the consumer with the critical answers they need so that when they are out getting estimates, reviewing samples and ultimately making decisions, they feel confident in their final selection.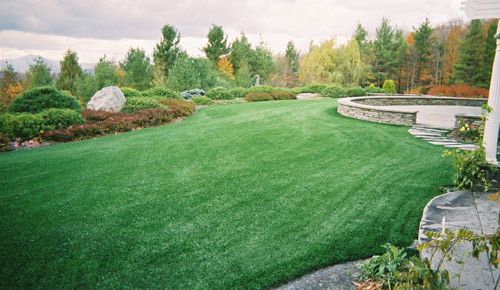 The amount of traffic you expect should play in to your final selection of turf. Typically, denser turf, that is, turf that has far more threads per volume of area and turf that has greater weight per square yard will hold up to high traffic more than turf with less density. If you are not planning on having any traffic then there are many varieties that look great, are not as dense and will save you money.
Color fading is a good question. Each manufacturer is different and the dye lots are different from the same manufacturer can be different as well. Check the manufacturers warrantee for specifics on fading and also on the length of the warrantee. If you are getting a ten year warrantee it should suffice as most turf does not fade dramatically over time due to modern manufacturing technology.
Finally, the best way to maintain your turf is just the same as you would your carpet if you have it at home. Make sure you keep it free of debris, you can rake it up so it stands straight to insure the appearance is perfect. Electric brooms can be rented from tool shops and operate the same as many vacuums with revolving brushes: they help keep the fibers straight. Try and rent an electric broom once a quarter to keep it looking perfect year round.