Synthetic turf is great. It saves money and time and it looks good too. But, what about red synthetic grass? No one would expect that a red lawn would make waves with consumers. That's exactly what it did for Eastern Washington University. They jsut installed a completely red synthetic turf football field thanks to a major donation from Tennessee Titan's Michael Roos, an alumnus of Eastern Washington University.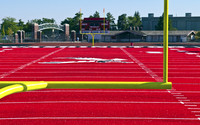 While the turf is a boon for the players as it definitely decreases player injury, it's also a boon for the University. According to Bloomberg, "Season-ticket sales have tripled, the university bookstore is on its fourth order of "Red is the New Green" T-shirts, and a webcam showing the construction of college football's only red field received over 2 million hits…".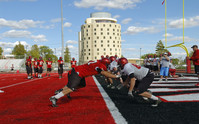 Synthetic turf can be made in a wide range of colors and multicolored applications are actually quite common on sports fields. The first team to have a single, bold, non-green color of astroturf was Boise State. Theirs is blue. Red, the solid color of Eastern Washington, really stands out.