Since most homeowners are first time buyers of artificial grass they are very concerned about warranties associated with the turf itself and with the installation of the job too. The main point of this article is that not every artificial turf manufacturer or installer has the same type of warranty and talking to your sales representative about the terms of your warranties is especially important when making a final decision about the choice of turf you will go with.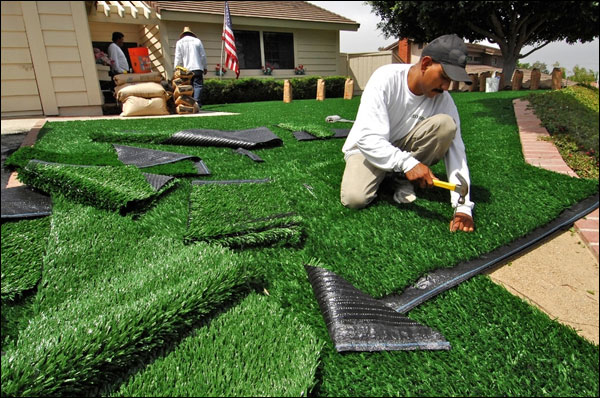 Not every company and not every warrantee is made equal. Most artificial grass warranties fall in to one of two categories: (1) manufacturers warrantees and (2) installation warrantees. The manufacturer's warrantee is the warrantee that has the least possibility of being used. Artificial turf is so resilient that repairing the turf due to defect is highly unlikely. Most manufacturer's warrantees last anywhere from 5 to 10 years. These warranties typically cover fading, and defects resulting from ultra-violet radiation.
The installation warrantee, typically provided buy the installer, not the manufacturer, covers the most common types of problems relating to the installation of artificial grass like seams coming apart, highly visible seams in the turf needing repair, turf sinkholes associated with a degradation of the substrate material, corners and edges of the turf curling up due to poor placement of nails or staples and rippling in the layout of the turf itself.
One of the most important things to consider are the conditions under which you can get a warrantee. Many consumers want to minimize the expense of installing artificial grass and opt to do it themselves. While this is a viable means of decreasing your expenditures, installing artificial grass on your own will mean that an installation warrantee will not be in place. Manufacturers warrantees, if applicable, should still maintain. Installation warrantees are, again, the most important aspect of guaranteeing the longevity of your artificial turf. Ask your turf sales representative for full disclosure on the installation warrantee on your artificial grass.