Synthetic turf saves homeowners more than just money. It saves them time and it is eco-friendly. Municipalities, federal organizations, schools and parks are turning to synthetic turf in record numbers for the same reasons: installing synthetic turf reduces your expenditures, there's no more watering, no more labor cost associated with upkeep, there are no more expenses with keeping equipment running, no gas to pay for fueling equipment. The list goes on and on but the simple fact is that installing synthetic turf is a long term, money saving investment.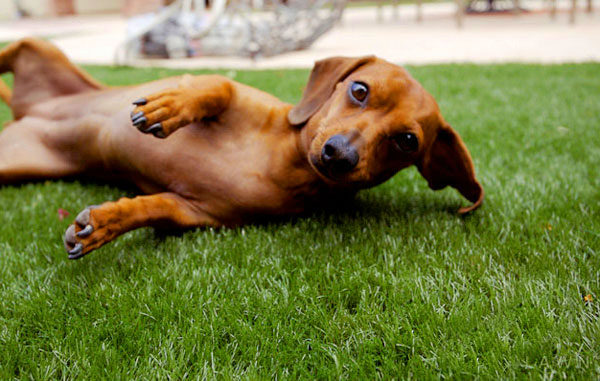 Getting the fake stuff installed does concern some consumers. Will it look real? What will my friends and neighbors think? How well will it hold up over time? These are all valid questions and we, luckily, have the answers.
The technology that goes in to the manufacturing of synthetic turf in incredible compared to what was available just a few years ago. It used to be that fake grass looked, well, really fake. It had a high gloss sheen in sunlight, the coloring itself was bland and not very natural looking at all and the feel of the turf itself was far from natural. In fact, old turf was downright abrasive. Nowadays, fake grass looks lifelike, lush and feels soft underfoot. With many styles having multicolored blades and brown thatching giveing the turf a realistic appearance, it's pretty hard to tell the difference between the fake stuff and the real thing.
The durability of turf has improved just as the appearance has. Typically, turf should last you two times the length of a manufacturers warrantee and many companies offer 10 year warranties standard. The same technology that makes sports turf virtually indestructible has been incorporated in to synthetic lawns of today. The only thing that destroys turf quickly now is fire. And if your turf does get exposed to excessive heat it won't explode in a burst of flame. Synthetic turf is fire retardant and the end result of exposure to heat is melting.
So synthetic turf saves money and it will last a lifetime. It looks so real now that most people won't notice the difference unless they get up close and personal. More importantly, with the fake stuff you can say goodbye to pulling weeds, tracking mud in the house, paying for a landscaping maintenance service and having to worry about making seasonal repairs to grass that's dead.