Synthetic lawns are not cheap. High markup on the turf itself is common throughout the industry especially for smaller turf companies. If you want the lowest price go with the company that distributes the most turf. Typically, the more turf a local retailer distributes, the lower the price they have to pay for turf. This translates to lower prices for the consumer. But not all large companies discount their turf.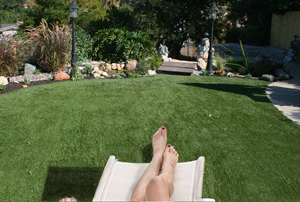 Call a handful of turf companies and ask if they provide free estimates. Ask if the company's estimators have the authority to discount jobs off of retail. Why have someone come to your home to sell you turf if they aren't open to negotiation? Realize that most construction jobs have a number of different areas of negotiation, this is the case for artificial lawns as well. There are a number of different points of negotiation when it comes to turf: (1) the actual synthetic lawn itself; (2) Infill product; (3) Base Material; and (4) Weed barrier if used.
Most turf companies offer a range of turfs of varying price and quality. Some will be marked up more than others. Expensive turf generally has the highest markup so negotiating the price of the most expensive products is always easier. As your installer about the range of price on each type of turf.
Infill products range from expensive to very inexpensive. Silica sand is perhaps the least expensive while synthetic infill products range in price but are more expensive. Ask your installer about the different kinds of infill products used and what they can do for you in terms of discounts for less expensive infill products.
Base material is very inexpensive. There is typically not much markup on the base material and installers use either decomposed granite or class II road base. The cost of these base types fluctuates. Ask your installer what they use and request a different base material if you can get it cheaper.
Negotiation on labor is perhaps the best area to negotiate. Ask your installer to break down the cost of all four of these items and start from there.
Perhaps the best way to keep artificial grass installation costs down is to do it yourself. For a free guide on artificial turf installations, click on the following link: FREE artificial turf installation guide.