Landscaping with synthetic grass is now cost efficient, good for the environment, looks great and reduces your bills. Imagine never having to water or mow or pay a gardner for upkeep. Synthetic grass comes in a wide variety of colors, thicknesses and grades so matching your new synthetic turf to what the surrounding grass looks like naturally in your neighborhood is more possible now than ever.
Adding turf to the front or back yard is easy and installing putting greens is now far easier than ever. Many artificial turf companies will install a small putting green with the purchase of a backyard installation.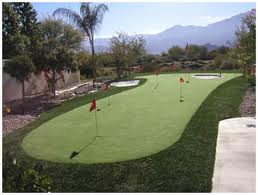 Make sure that the people installing your turf have installed hundreds of jobs minimum, are fully licensed and boded, and have a track record of success. One way to insure the quality of a prospective installers work is to ask for addresses of jobs they have installed elsewhere. If you can walk the yards and inspect them yourself you'll feel more confident.
Try and get at least three bids to not only get the best price possible, but also to familiarize yourself with the differences in installation processes, differences in turf quality and also assess the representatives demeanor. Ask about installation and manufacturers warrantees and exactly what these warrantees cover as well.
Synthetic grass landscaping is beautiful and effective for a wide range of reasons, but before you buy, do your homework and familiarize yourself since these installations last longer than most people live in their homes!