Investing in synthetic grass requires a good maintenance plan. One of the biggest questions people ask us is "What is the best way to maintain turf without destroying the product itself?" This is is a very valid question. No one wants to end up paying for turf that will ultimately look like this:
We suggest a number of different maintenance plans. FIrst and foremost, we really discourage the use of metal rakes of any kind. If you are going to want to remove debris from your yard, always use a leaf blower if possible. Invest in an electric leaf blower if you can as the gas powered leaf blowers kick out 11 times more pollution than the average car!
Second, every quarter, go out and rent a power broom. You can rent a power broom from a local tool supply rental or sales shop for about $30-$40 dollars a day. Power brooms are effective at keeping your turf standing straight up giving it that freshly installed look and feel. Most people are amazed at the results even after having synthetic grass installed for years what the power broom can do. Here's what the power broom looks like: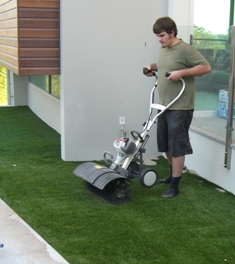 Even though synthetic grass does not require watering, occasional use of a spray hose on the turf can clean it up quite well. Dust and dirt can accumulate and washing it down can help yo make the turf look freshly installed.