Will synthetic turf harbor mold, mildew and other bacteria? This is a valid concern and while synthetic turf is designed to not serve as a breeding ground for these kind of organisms many new products have come on to the market to inhibit the growth of mold, mildew and other types of bacteria.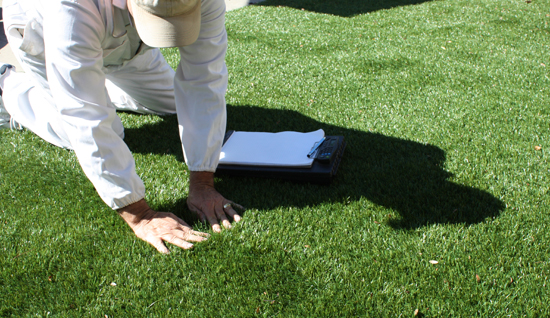 Some people have complained that synthetic turf with a cloth backing can harbor mold and mildew, especially in very heavy rainy seasons. We have not heard of any complaints of mold and mildew growth in the arid region of Southern California, but reports of this problem have surfaced. True Turf does not use a turf backing make of a cloth like material for fear that it can serve as a breeding ground for dangerous organisms. Instead, out backing is a perforated propylene/polyurethane product. As such, it will not in and of itself harbor nasty bacteria.
Our synthetic turf fibers are made of polyethylene monofilament, just like fishing line. We haven't noticed bacterial growth on our turf on on any fishing line for that matter. Mother nature has a way of doing whatever she likes, however, and there are some ways to impede and/or eliminate the growth of harmful bacteria, mold and mildew.
Occasionally spraying your yard with a mixture of 10% bleach and 90% water will kill most bacterial growth. If you have some type of infestation, there are other products on the market as well. Here is a list of some manufacturer's that provide top notch products to help you kill bacterial growth if it occurs:
Coating Specialists, LLC, makers of TurfD
MoldOff Incorporated
While the likelihood of synthetic turf growing mold and mildew is exceedingly low, especially in arid areas, it is important to know where to turn for help. True Turf Inc. can special order these products for you at a moment's notice and apply them as recommended by the manufacturer. We don't just install synthetic turf, we help our clients maintain it for life.