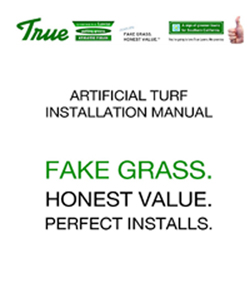 Artificial grass installation can be tricky. There are a number of things that can go wrong. Having a comprehensive guide that walks you through all of the steps is the best way to get the job done right. You can download our comprehensive guide by simply clicking on the link below.


Free Artificial Turf Installation Guide



Read through the manual if you are going to do the job yourself or if you just want to get more familiar with synthetic turf installations that others will be doing for you. In general, there are four steps in the process: (1) Measurement and design; (2) Excavation and grading; (3) Installation of base material and grading; and (4) Turf installation.
Like any other construction project, you want to measure twice and cut once. Turf is not the most inexpensive material on the market. so you want to make sure you order enough but not too much.
During the excavation phase, you will want to dig down approximately 4″ below the surface. Thereafter, grade the area relatively smooth. It does not have to be perfect but grade it as well as you can.
Most people use decomposed granite or class II road base as a base material. Either will work fine, however, we prefer class II base for residential applications and decomposed granite for putting green installations.
Once the base is graded smooth you can lay the turf down, cut it to fit and secure it down with 6″ galvanized nails or sod staples around the edges and seams. We suggest using the nails around the edges every three inches. An infill product will need to be used as well. Some use natural products like silica sand or artificial products like black crumb rubber, a green infill referred to as durafill or flexsand.